Namespace Utility Modules (NUM) Specification
"
Introduction
Millions of organisations and individuals have used their public facing website to publish useful data about themselves – e.g. contact information, logos, registration numbers and more. However, data presented on the web in this way is often not structured or easily machine readable. Web standards for structuring this data have a high technical barrier for adoption and can be inefficient when they require full HTML documents to be downloaded and parsed.
Many service providers collect structured and unstructured data from the web for indexing and inclusion in social graphs and knowledge graphs. However, the data isn't made freely available and each provider requires the data subject to use a different method to manage and update it.
The Namespace Utility Modules (NUM) protocol provides a way to store structured data in, and retrieve structured data from, the DNS. Data can be stored for any domain name or email address. Data is stored in DNS TXT records known as NUM records. Records are located using a NUM URI which is resolved using a series of DNS queries known as a NUM lookup.
Use cases for NUM records are standardised with modules. A NUM lookup for a custom record makes a query to the authoritative nameserver only. A lookup for a standardised record (a record based on a module) first queries the authoritative nameserver and if no record is returned, a query is then made to the NUM Server – a DNS-based store of NUM records that organisations and individuals can use to adopt the NUM protocol through a simple, user-friendly web interface.
Status
The NUM protocol specification is currently a draft, we are inviting members of the technical community to provide feedback – to do that please contact us

.
Conventions in this Document
The key words "must", "must not", "required", "shall", "shall not", "should", "should not", "recommended", "may", and "optional" are to be interpreted as described in RFC2119

.
Links in this Document
For the benefit of readers, these icons are displayed next to links to indicate where the link leads:

Up the page

Another page

Down the page

Another site (new window)
Audience
This specification is written for readers looking for an in-depth understanding of the NUM protocol – how records are stored in the DNS and how they are retrieved by NUM clients. For a much lighter read, please see the technical introduction

.
Example Zone
To help understand how NUM fits into the DNS, we have illustrated an example zone: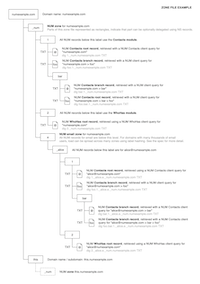 Click the thumbnail to expand below or download this PDF

.You can view the example zone in this PDF

.
The zone shows how NUM fits into the DNS for the domain name numexample.com, this domain name is used throughout this specification and many of the examples used in the specification are reflected in this example zone.